What is your passion? You have probably, as I, several things you are passionate about. One of my passions is to travel off the beaten tracks with a light packing. But this blog is about my other passion - tackle change, improvement possibilities, the best possible way!
The only thing that is certain is that life is constantly changing! It doesn't matter how hard we try to stop the world from spinning we will only get worn out while the world continues to spin. Do we like change? Absolutely! If it affects others! Who doesn't want others to change? You might want to change the colleague that is too detailed, too lazy, or too sloppy! And what about your partner? There are probably a few areas in which you like him or her to change. But do you want to change yourself? Only if you are the one that decided to change! You don't like people to impose change on you!
One of the significant changes that is affecting all of us and will continue to do so is digitalization. All my projects since I started my carrier has had to do with digitalization. Mostly as a possibility to make business more efficient due to new tools and systems. It's not a new phenomenon, but digitalization 1985 that was a major change by then is a story to laugh at today. The digital change is going faster the more it's affecting more areas and more parts of daily life. I can assure you that much more can be done to keep up with change in almost all big companies and organizations. Most of you know that there are still too many old models, processes, and systems around. Why are they not replaced? They function good enough (at least according to all of those that don't like someone to impose a change on them), and it's expensive (so we rather wait until the world stops spinning and see what we need to do by then…). I could give you more examples but let us continue with how to implement change faster and smoother.
I love to keep my eyes and ears open to see and understand trends and use that understanding to implement necessary changes. Since change is inevitable, you might just as well do the best you can to adapt smoothly. Is it possible? Absolutely, and it's not even that difficult, but you have to deal with it consciously. And please don't wait for things to settle - they will not!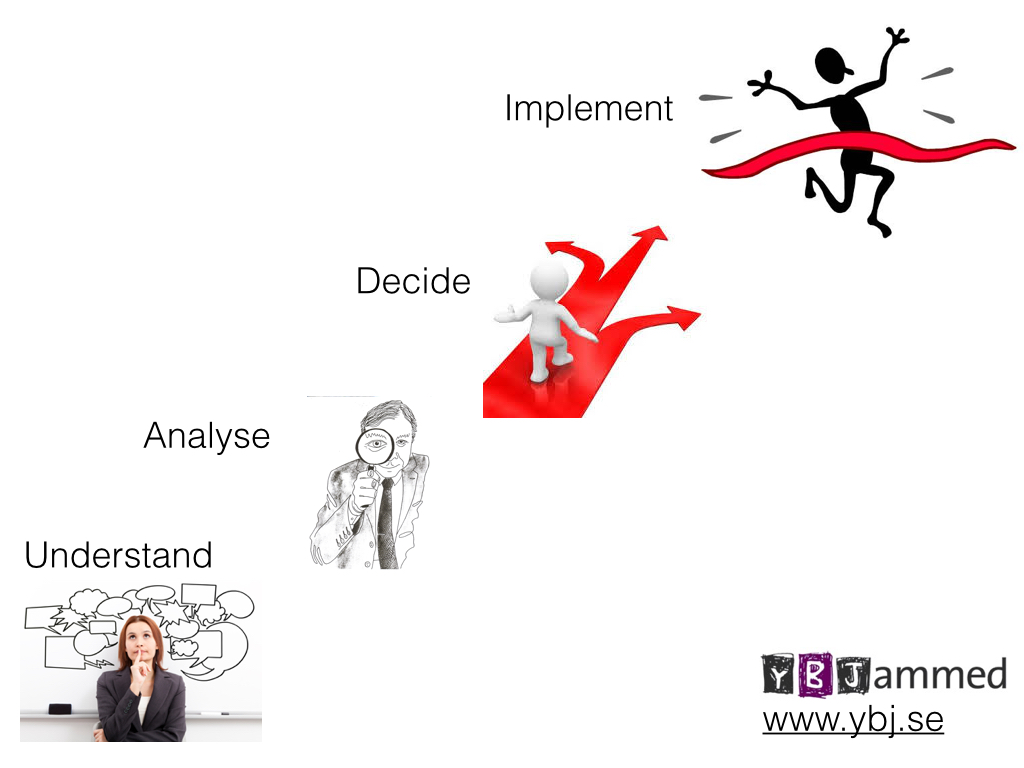 The 4-step model to handle change and other challenges
Understanding is the most tricky step. We have to admit that we face change whether we like it or not. The sooner we accept that change is here, the sooner we can start making the best of the situation.
Analyzing is to find the possible ways to adapt to the change we face. When you skip denial, you can concentrate on collecting the best information from the best sources, and present at least 2 possible solutions, preferably 3. One could be - we refuse to change.
Then it's time to decide how you want to tackle the change you face. You might feel you have no choice, but that is never true. You can always walk away. It might be costly but is always possible even though that seldom is my suggested solution.
The implementation phase is, of course, the most challenging. When finally faced with the fact that change will affect each person, resistance and questioning grow strong, but you can't easily detect it. People unconsciously hide it behind arguments and facts. Through good leadership and clear goals you will succeed, but not if you don't stay focused and conscious.
I will continue to inspire you to dare to handle the effects of coming changes earlier. The next blogs will cover communication and people which is what you need to manage to succeed in implementing change and staying ahead of your competitors.